Internet Course
Welcome to the Virginia Driver Improvement Clinic Online! Our course is designed so that you'll laugh while you learn.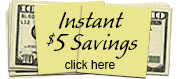 Inside, you'll find informative pictures, colorful graphics, interesting charts, wonderful information, easy-to-read text— important traffic safety information taught with a fun and light approach that's designed to keep you interested and entertained.

Click here to start!
Here is some other helpful info:
Out of State Ticket
Even if you received a ticket in another state, we can help! We offer fun and informative Internet-based traffic safety courses at low prices in many states throughout the nation.
Select the state in which you received your citation below, and we'll link you to one of our great affiliated programs. (If the state where you are licensed does not offer a traffic school option, you may be able to obtain approval from your state's licensing agency. Or, check with your insurance provider to see if the completion of one of these courses will get you a discount on your premiums.)
Internet Students
If you need to register or return to the course, simply click below. It's fast and easy to sign up. We'll have you on your way in no time! This course has been approved by the Commonwealth of Virginia DMV (CoVDMV).